ArtEast
INTERESTED IN WORKING TECH FOR SOUND OF MUSIC?  HERE'S HOW:
First of all, check your schedule and availability.  Participating in tech is a very large commitment.  For the build crew, we will need to know how many hours you can commit yourself to the regular schedule of after school Monday through Friday from 4 – 6 as well as Saturdays from 10 – 2, from January 1st to the end of February.   Not all crews meet every day, but your assignment will be based on your availability for those times.  For the run crew, you will be called as much, if not extended times (1 hour before and/or after the beginning/ end times, based on your assignment) of the Tentative Actor calendar schedule (posted below), from February 10th to March 3rd.  Just like if you were an actor in the show, you need to be there EVERY DAY, no exception.   Please look at your calendar and mark any conflicts from January 2nd until March 3rd. The calander is found here https://calendar.google.com/calendar/r/month/2018/2/1
You will be asked about these conflicts at your interview.
Please fill out this google form before the interview.
Tech interviews will last 5 minutes. You can sign up for your time on Tuesday, December 19th from 4 – 6 or Wednesday, December 20th during lunch, 5th period.
Sound of Music Cast List:
Thank you so much to everyone who auditioned. We were amazed at the amount talent we saw over the entire process.
If you see your name below, please initial next to your name or send an email to artateast@gmail.com letting us know that you accept your role. The first read-through will be next Wednesday, December 20th after school in the auditorium from 4-8pm, please be sure to clear your calendar for that date.  If you were not cast and want to be a part of the process, e-mail artateast@gmail.com with the SUBJECT LINE:  Use me for tech please and include your preference for job assignment in the body of the text.  We will do our best to accommodate you and find a place for you to continue the process with us.
Maria Rainer

Melanie McCoy

Captain Von Trapp

Richard Yuan

Mother Abbess

Delaney Orr

Elsa Schraeder

Ivy Evers

Max Detweiler

Imani Chabikuli

Rolf Gruber

Jonathan Roussin

Liesl Von Trapp

Bella Lambert

Friedrich Von Trapp

Nicholas Min

Louisa Von Trapp

Rosemary Betts

Kurt Von Trapp

Alex Omburo

Briggitta Von Trapp

Lily Fowler

Marta Von Trapp

TBA

Gretl Von Trapp

Sophia Zabala

Sister Margaretta

Riley Davis

Sister Sophia

Huda Mustafa

Sister Berthe

Susan Edelstein

Nuns

Margaret Breeden

Sophie Cronin

Elin Collings

Sidonia Gibilisco

Sarah Jennings

Katherine Ropp

Anna Thomson

Skye Whitsell

Ananda Zabala

Nadia Zabala

New Postulant/Nun

Skye Pham

Ursula

Naomi Nelson

Frau Schmidt

Zaynah Gatling

Herr Zeller

Grant Lyerly

Von Schreiber

Hayden Young

Franz

Matheus Robeiro

Baroness Elberfeld/Dancer

Mira Silveira

Baron Elberfeld/Dancer

Ethan Pham

Dancers

Farah Abdo

Jason Bird

Joe Davis

Carter Davis

Leanne Ding

Juliana Duque

Sasha Freedland

Liza Levithan

Kalkidan Miller

Truman Qu

Tai Robinett

Matteo Salinas

Mya Scott

Dan Stompel

Kellum Thomson

Josiah Tolman

Contestant Winner #2/Dancer

Micah Cohn
Antigone opens this weekend, November 16- 18th, Thursday through Saturday, 7:30 pm  BUY TICKETS HERE.
East Chapel Hill Drama Department's fall show, Antigone, will run Thursday, November 16th – Saturday, November 18th at ECHHS' Mainstage Auditorium, 7:30 p.m. each evening.  Canadian poet Anne Carson's 2015 translation of Sophocles' classic tragedy is a moving, dark and a surprisingly relevant examination of the constructions of power, how they work upon the human spirit and the costs we all pay when great men exercise bad judgment.   When asked what has stood out for her about this production at this time, director Hope Hynes Love said, "A friend of mine posted this status in light of the recent news emerging from Hollywood, 'WE ARE THE PATRIARCHY.  WE MUST DISMANTLE OURSELVES.  NO ONE SAID IT WOULD BE EASY,' and I thought, that is our show.  These are not new stories, new tragedies, we just need to make sure that each generation has a shot at wisdom about these things.  Theater–pieces like this one–is one way to do that."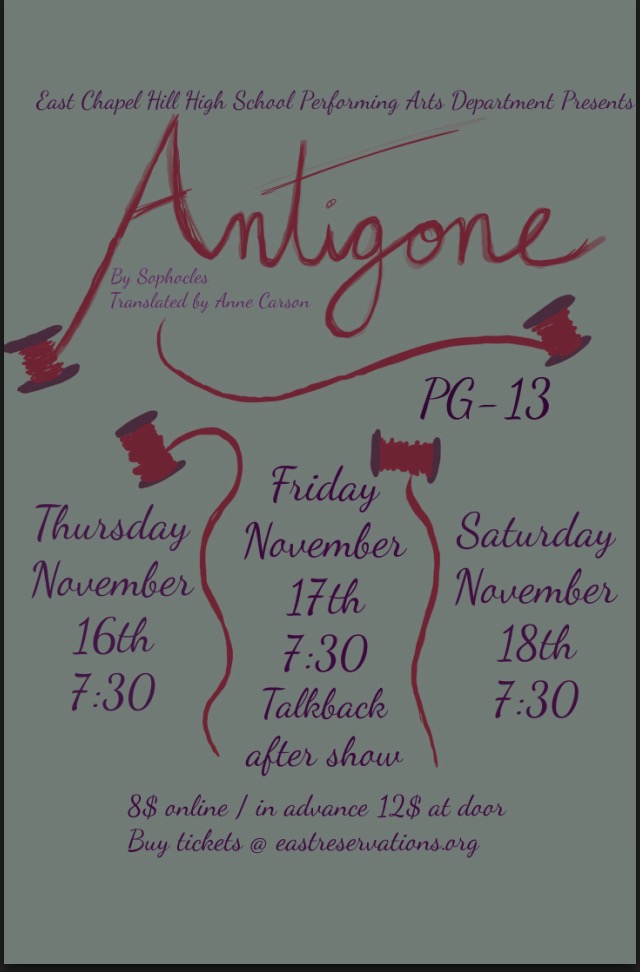 ---
OUR PREVIOUS SEASON:

IMPORTANT INFORMATION FOR PATRONS:
The show runs about two hours in total.  There is a fifteen minute intermission between acts.  These shows are rated PG-13.*  Please enter the building at the main entrance & make a right towards the Black Box Theater.   We accept cash & check for tickets sold at the door.  Tickets are $10 each.
Parental Guidance Information*
ACT ONE
Precipice by William Matrosimone / Director: Natalie Troy
In this romantic comedy, two characters go hiking on Mount Rainier on a first date when a storm takes them by surprise and they are left stranded on the mountain. Their only option for survival is to jump off a cliff and hope to make it to the other side and continue the journey home, but He is reluctant to take the leap, making this largely straightforward conflict an allegory for the way we decide to develop or not develop relationships in our lives.  PG for strong language & acknowledging the existence of sex.
I Dream Before I Take A Stand by Arlene Hutton */ Director: Mara Edelstein
This surreal examination of a woman's dream about the upcoming trial of the man who sexually assaulted her in the park one not-so-typical morning on her way to work.  Focusing on the woman's subconscious fears, it begs the question "Who is responsible for instigating the attack?"   The show turns a critical eye on court practices which allow personal questions and attacks on the victim's persona and demeanor as a defense for sexual assault. PG-13 for sexual terminology & a graphic verbal description of a sexual attack.
The Blueberry Hill Accord by Daryl Watson / Director: Melanie McCoy
Hannah and Lindsay are lifelong best friends who, realizing how much they've changed since they met in the third grade, debate whether or not they want to remain close now that they're in high school. To settle the argument, Lindsay draws up a contract detailing specific terms of their "break up." Complete with untold scandals, surprising revelations and, of course, battles over French fries, this hilarious show contains heartwarming themes about growing up. PG for adult situations & language.
On the Porch One Crisp Spring Morning by Alex Dremann / Director: Susannah Broun
An absurdist take-off on 80's commercial families, a mother & daughter converse over General Foods International Coffee and more is revealed about the lives of the mother and daughter and their explosive family history. Don't be fooled by the mundane title: throughout the play the plot thickens and the tension and hilarity rises.  PG for guns.
ACT TWO
I Am Not Batman by Marco Ramirez / Director: Savannah Mastin
A one person show with a live drum accompaniment about a young boy who is telling the story of him being Batman and how he saves a man, later revealed to be his father, from muggers; it's a heartwarming story about heroes and family that everyone can relate to and enjoy. PG for adult/mature content, including pantomimed fighting, mentions of guns & gun violence & mild adult language.
 187 by Jose Rivera / Director: Zaynah Gatling
John works with Alejandra at the factory every day, admiring her beauty in silence. But today, at the No. 18 bus stop, John works up the nerve to speak to his coworker. What begins as an attempt at courtship quickly turns to a hate-filled argument about race and immigration in this play about the insurmountable distance created between two people by cultural differences.  PG-13 for adult language & situations, as well as the verbal description of torture.
 Tongue, Tied by Michael Thomas Cooper / Director: Julian Fernandez
Tongue, Tied is a hilarious comedy about finding a friend even when you are sure you are alone. The show takes place in a psychiatrist's waiting room. Tina is waiting for her appointment when her hand sock puppets begin to pick on her. After a while Tom enters, Tom also has puppet hands and both begin to discuss the similarities in their strange ailment. As they talk they gain a better understanding of themselves as people and fall in love… after a lot puppet smooching.  PG-13 for adult situations & sexual content.
The Dungeons and the Dragons by Kyle John Schmidt / Director: Alessandro Smith
In this charming comedy a group of four kids play a role playing game together while dealing with outside social issues and finding their own personal identity. A heartwarming story about friends playing and supporting each other while they deal with finding their sexuality, gender identity, and dealing with harassment for being different.   PG for violence, adult situations & language.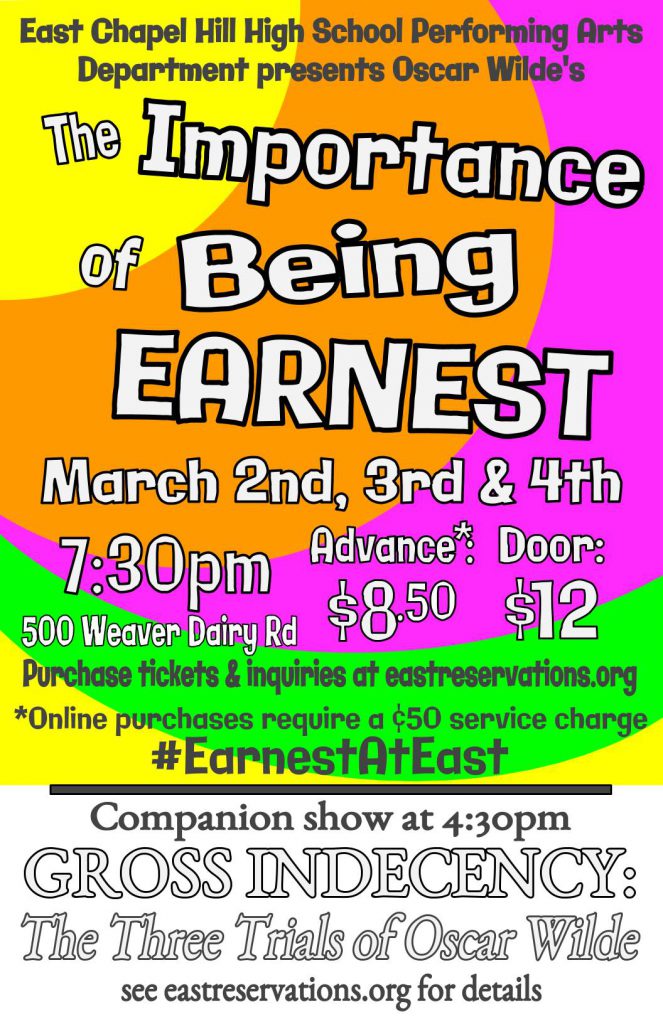 ArtEast Tickets
Band and Orchestra Concerts ~ $5.00*
Jazz Concerts ~ Free
Choral Concerts ~ $5.00
Theatre Performances ~ $8.50 (Online) or $12.00 (Door)
For Online Reservations go to our ticket site
*Jazz Concerts are FREE
*All December Band and Orchestra Concerts are FREE (Joint Concerts with Philips Middle School)
Donations are always accepted and greatly appreciated!
Donate at the Box Office during all shows.
For Online Donations go to seatyourself.biz/echhs
(Click Make a Donation at the top of the page)
Volunteers
If you are interested in volunteering during concerts and arteast events please use our Sign Up Genius
http://www.signupgenius.com/go/5080c44aaa823a31-performing
ECHHS Performing Arts Faculty
Jeff Alguire ~Theatre Manager
Desiree Davis-Omburo ~Chorus
Ryan Ellefsen ~Band and Orchestra
Hope Hynes-Love ~Theatre